Issue:
Contera VMS and Feenics Integration

Note: The current integration supports a max of 1000 cards.
Procedure:
*Note: You will need an AV-CWSP#Y License applied in order for integration functions to start.
*Note: All equipment must have the proper timezone / time set or else there will be sync issues.
1. From the Cloud Portal, select the Management tab.
2. Choose Integrations from the drop-down menu.

3. Click on Add New Integration.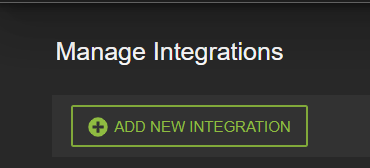 4. Choose Feenics and click Next.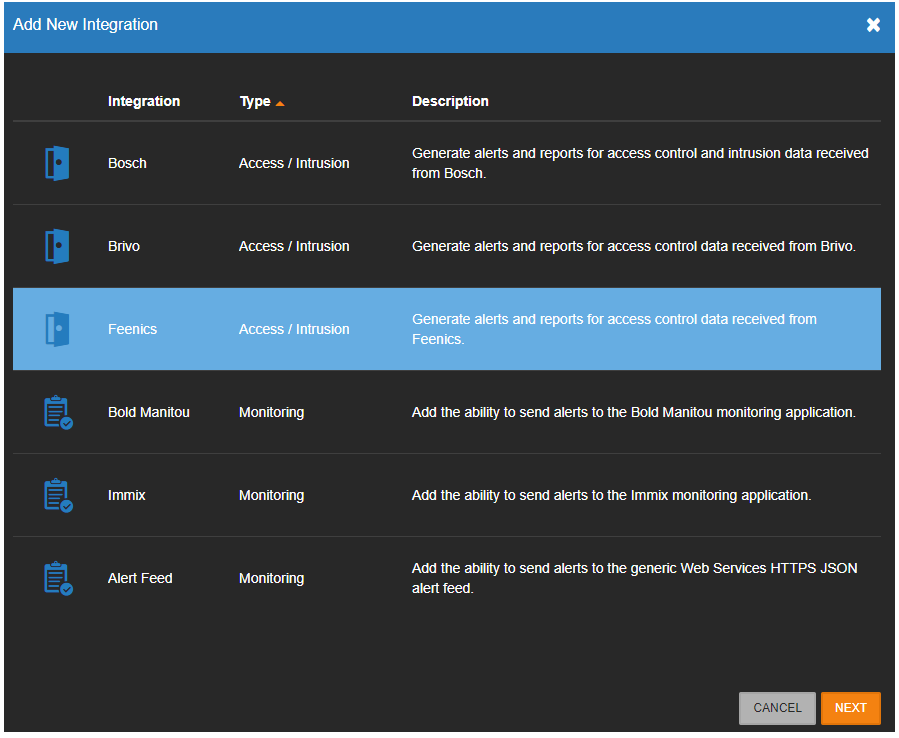 5. The Feenics Integration will be added to the Manage Integration list.

6. Click Edit to enable or disable the Feenics Integration in General Settings.
7. In General Settings, enter the Access Control Account Name and Access Control Username from your Feenics Keep account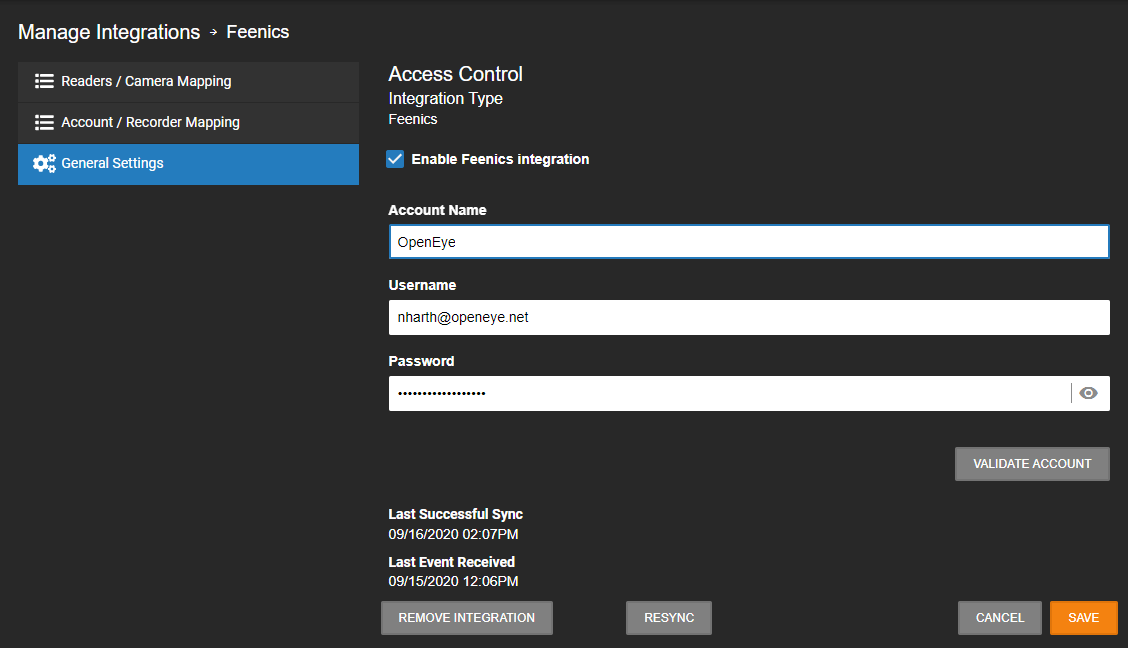 8. Click Save. Once you click Save, OWS will sync with Keep by Feenics and download available readers.
NOTE: Last Successful Sync shows the last time and date OWS successfully synced with the linked account.
NOTE: Last Event Received shows the last time and date OWS received an event from the account.
NOTE: Validate Account manually resends the account credentials to confirm the linking is still valid.
NOTE: To access all cardholders, accounts, and readers, enter an Access Control Account Name, Username and Password associated with a Feenics user associated with the Enterprise Layer. Otherwise, only the cardholders, accounts and readers associated with a user below the Enterprise Layer will be accessible.
NOTE: If there is a sync issue check the Feenics portal: https://keep.feenicshosting.com. Use the information in Step 7. Check for disconnects/reconnects as shown below. If it shows this, Feenics support will need to be involved.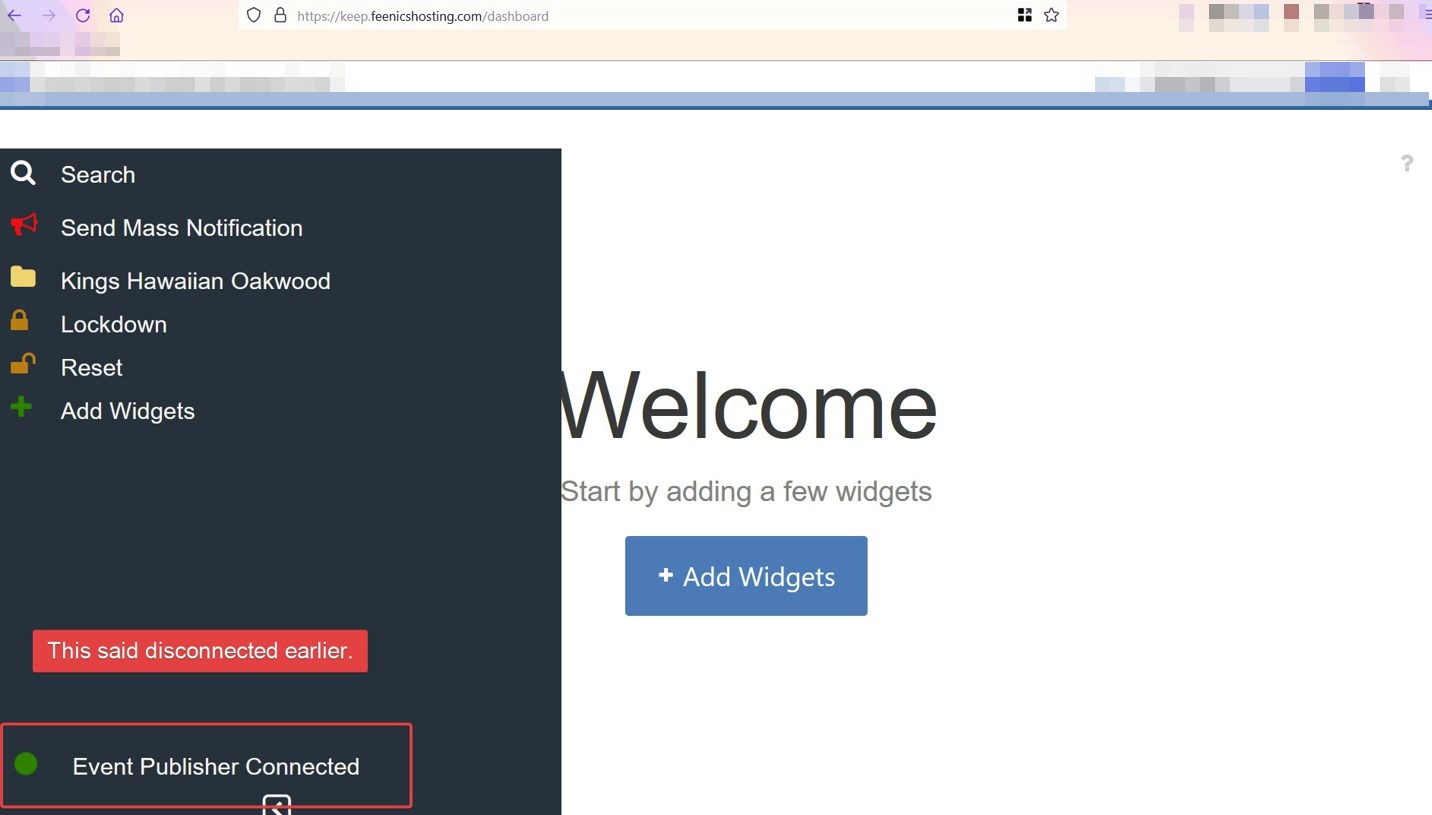 9. Press Readers / Camera Mapping.

10. Select Reader.
11. Press Add Camera and select the desired camera to link to the reader.

12. Press Account / Recorder Mapping.

13. Select desired Feenics account.
14. Press Add Recorder and select the recorder to link to the Feenics account.
ConteraVMS: Feenics WS Alert Configuration Procedure