Objective
Supplying Auxiliary 12VDC/24VAC power to an ArecontVision camera requires a power cable. If you are not using the supplied cable, you must understand the pinout to supply power to the camera.
Procedure
When powering the camera from an outside AC or DC power source, run the supplied power cable through the access hole on the camera housing and connect it to the 4-position connector on the main camera board.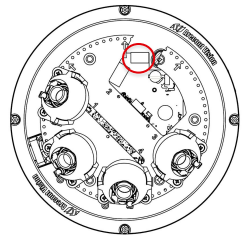 If you use your own power cable or no longer have the original, refer to the image below showing cable that is normally supplied with the camera. It is labeled to clarify the pinout arrangement for any type of auxiliary power supply.