Environment:
AV-CSHPXxxT
AV-CSHPXxxTR
ConteraWS Channel Recording license (One per camera is needed ) (AV-CST1/AV-CPM1/AV-CPR1)
Setup process: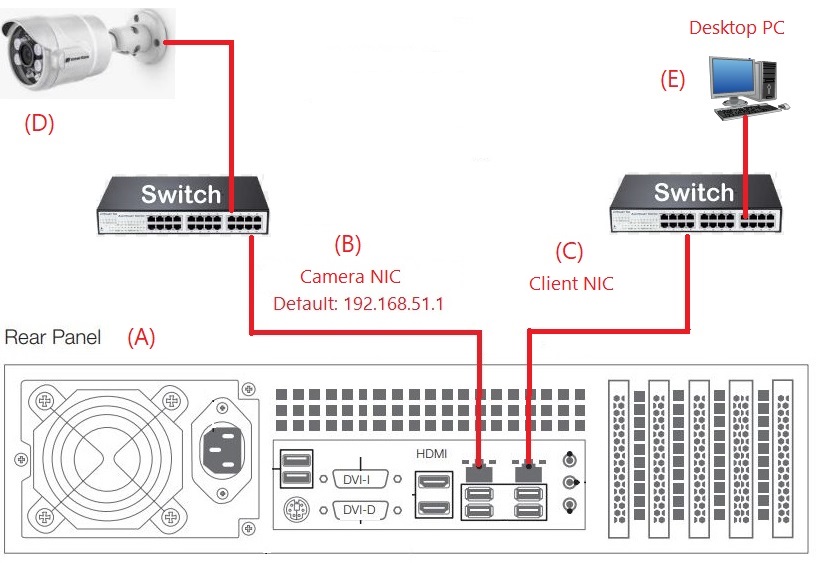 Network information:
Remote Communication - Port 80 (8888 used if 80 is blocked)
(C) Client NIC IP Address - DHCP (Can be changed if needed) The Client NIC is intended for users to access the internet and provide remote client connections.
(B) Camera NIC (External Switch) - 192.168.51.1 (2-254) / 255.255.255.0 (Gateway and DNS blank) (Can be changed if needed) Note: The Camera NIC is intended for use with a dedicated camera network.
Make on connection to the recorder before apply power. ( Monitor, mouse, keyboard, client, and camera connection.
Connect the power cord to a power source, and then turn the recorder ON.
Sign in with default login credentials: (Windows Only) User Accounts: NVRAdmin, NVRUser | Password: Recorder Serial Number
Note: The serial number can be found on the side of the Recorder. It is strongly recommended the password is changed during the initial setup.
Follow the Setup Wizard to complete the basic setup of your system.
Go to the Gear icon located in the upper left.
Select System setting>Licensing tab, Confirm on the right side of the menu that Licenses are Available. If no camera license is displaying click on the link : Contera VMS : How to Activate Camera Recording Licenses
Go to the Network Configuration menu and click on the Adapter tab

Left-click to open the "Camera" network setting and Change to the external network IP scheme.
Go to the Camera menu located under General Configuration
Click on Add Cameras to scan for the cameras.


Left-click to add a checkmark on the cameras you want to add to the system.

**Click " Add Selected Cameras

Click on the Live icon to verify live video is seen from the cameras added.
**Note: If the adds but does not connect, confirm a password was created on the camera web page first.