Objective
Set white balance when the Auto White Balance feature is challenged by the scene.
White balancing is the process of adjusting the settings of a camera to eliminate unrealistic color casts — to faithfully reproduce color scenes. Arecont Vision has a patented Auto White Balance (AWB) function that works well for a wide range of camera installation environments. However, there are some locations where you might have to adjust the white balance manually, where scene contents or local illumination causes issues with accurate color reproduction.
With the SurroundVideo® product family, Auto White Balance issues can be more challenging to correct, because the camera has four separate image sensors, each capturing scenes with potentially different illumination and color temperatures. By default, the white balance is averaged across the sensors to produce a consistent image across all four sensors. However, Auto White Balance is sometimes challenged one or two of the sensors are directed at scenes with very different color content and illumination than the others.
Procedure
For single sensor cameras, you can normally resolve color reproduction issues by selecting one of the alternative "Illumination" white balance modes — "Indoor", Outdoor, or Mixed.
If that doesn't fix the issue, or you have a SurroundVision camera, you can enable Custom White Balance settings to adjust for challenging scenes. Before using the Custom White Balance feature, you should set your camera settings to defaults to ensure a proper baseline, and then follow directions for your single-sensor or SurroundVision camera.
Set your Camera to Default Settings
Before using the Custom White Balance feature, you should set your camera settings defaults to ensure a proper white-balance baseline.
Go to the camera's Administration menu.
Click Restore to factory default and confirm your selection.

Wait about 10 seconds and refresh your browser.
Set Custom White Balance for Single-Sensor Cameras
Your Arecont Vision single sensor cameras must run firmware version 65230 or later to use custom white balance.
Go to the camera's Video menu and select ROI White Balance. Make sure that Auto White Balance is also selected.
3. Choose an area of the image that is primarily white or gray; click and drag within the image to create a box around the area. The Auto White Balance feature will use this as a base reference setting to make the adjustments.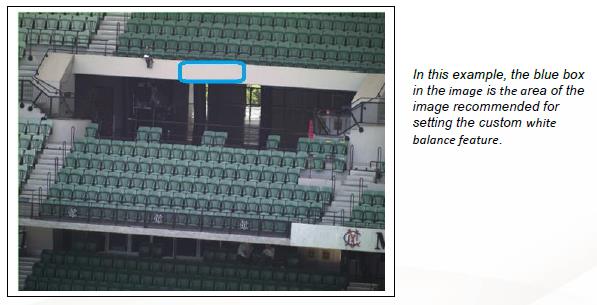 4. Go to the Administration menu and click Save all settings to flash.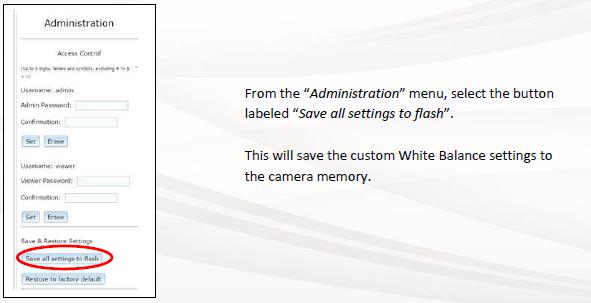 You may need to stop and restart streams within your video management system (VMS) for the new settings to take effect.
Set Custom White Balance for SurroundVideo® Cameras
Your Arecont Vision SurroundVideo® cameras must run firmware version 65189.9 or later to use Custom White Balance.
Go to your camera's web page
Double-click a sensor with a fixed white or grey area; this will bring up the full screen. You will use this area as a Custom White Balance reference.
Click CWB Window in the upper left of the image.
Click and drag in the image to outline a mostly white or grey area. Make this area as large as you can; the larger the area, the better this will work. The page will return to the 4-sensor display.

Double-click the sensor you set the reference area for in previous steps.
Go to the Settings menu. The Select channel box displays the number of the full-screen sensor (1-4).

Under Misc, enable Custom White Balance and exit the Settings menu.
Wait about 30 seconds for the camera to adjust the image.